2018 ECOS Fall Meeting
August 28, 2018
-
August 30, 2018
Agenda
Attire for the meeting (including the anniversary celebration) is business casual.
Meeting Materials
2018 State Innovation Videos
Greening Our States to Bring in the Green: Environmental Improvement as a Driver of Economic Development
ECOS Shale Gas Caucus Side Session
ECOS 25th Anniversary Celebration
ECOS Data Management Workgroup Side Session
Meeting App
In lieu of paper agendas, ECOS will use mobile meeting app Guidebook at the Fall Meeting.  The personalized app will feature the agenda, area attractions, floor plans, live polls, and more. Make sure to download the app to participate in live polls during select sessions and receive the most up-to-date information.
For questions about the Guidebook app, email Megan Swanson. Don't worry if you are not a technology whiz, ECOS staff will be available at the meeting to assist you with the app. The meeting agenda and other information will still be posted here on the ECOS Fall Meeting webpage should you choose to print your materials.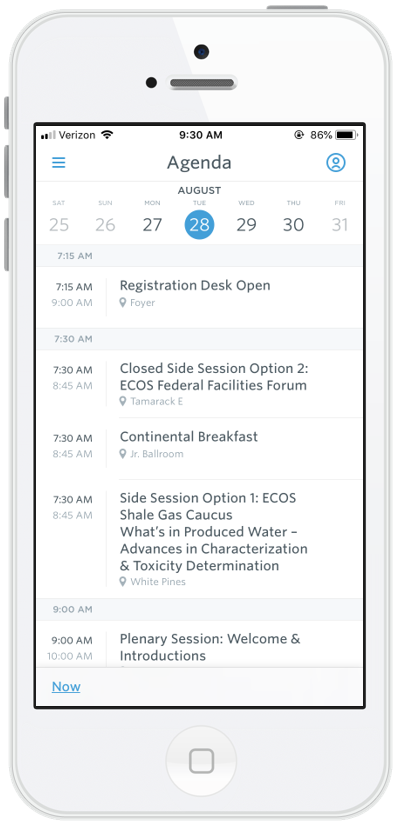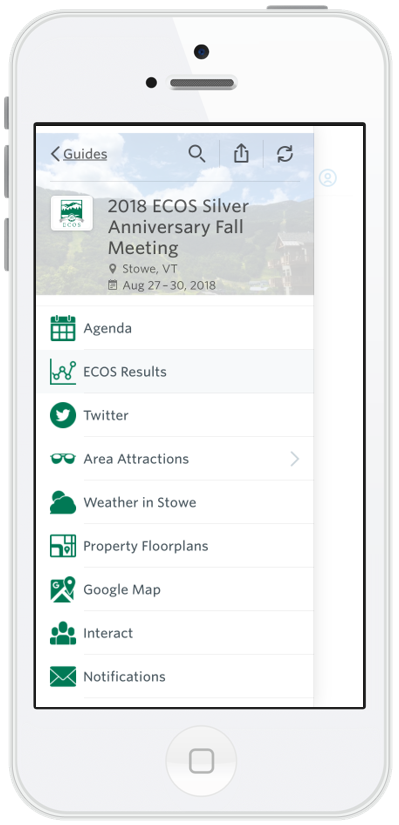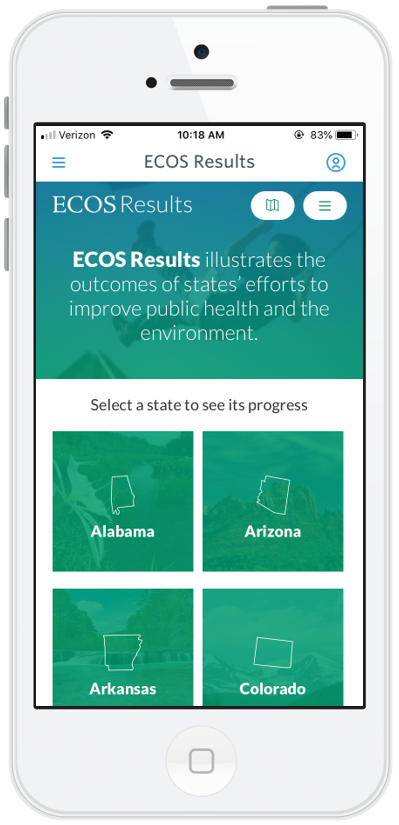 Registration
Before July 13:
$675 member/state
$775 federal/dues-paying Alumni Association
$875 other
Add $75 for registration 7/13-8/16. Add $50 more after 8/16.
Important Notes
Cancellation by 7/12 subject to $35 fee. Non-emergency cancellation after 7/12 non-refundable.
***ECOS cannot comp attendees who plan to attend one session only, unless they are speakers for that session.
Hotel
The room block is now closed. Please contact Megan Swanson (mswanson@ecos.org) to be added to the room waiting list or if you need to cancel your reservation so she can arrange a room transfer to the next person on the waiting list. To book a room at the hotel's normal rate, call 1-844-390-4760.
Check-in time at the Stowe Mountain Lodge is 4 pm and checkout time is 11 am. Cancellations must be made at least 14 days prior to the arrival date to avoid the forfeiture of the deposit in the amount of one night's room and tax. The hotel is a valet-only property. With the exception of limited complimentary self-parking, overnight parking is $24 per vehicle per night.
Ground Transportation
The nearest airport is Burlington International Airport, located just under one hour from the Stowe Mountain Lodge. The Stowe downtown area, where many restaurants and breweries are located, is a 15-minute drive from the hotel. If you plan to explore nearby restaurants or tour the Ben & Jerry's factory (30 minutes away), ECOS recommends renting a car.
Other options include:
Activities in Vermont
Sign Up Now for Ben & Jerry's Factory Tour
No visit to Vermont is complete without a taste of Ben and Jerry's ice cream. ECOS has arranged a Ben and Jerry's factory tour on August 27 at 3:30-4 p.m. Plan to arrive by 3:15, and save room for free ice cream!
The factory is on the way from the Burlington International Airport to the Stowe Mountain Lodge and is perfect side trip for those arriving before the hotel's 4 p.m. check-in time. ECOS will cover the cost of the tour, but transportation should be individually arranged.
Space is limited, with participation on a first-come, first-served basis and your guests welcome. If you are interested in reserving a spot, email Megan Swanson of ECOS.
Policies
Twitter
Follow @ECOStates on Twitter for updates on the Fall Meeting, and tweet about the event using the hashtag #ECOSilverAnniversary.
Contact Information