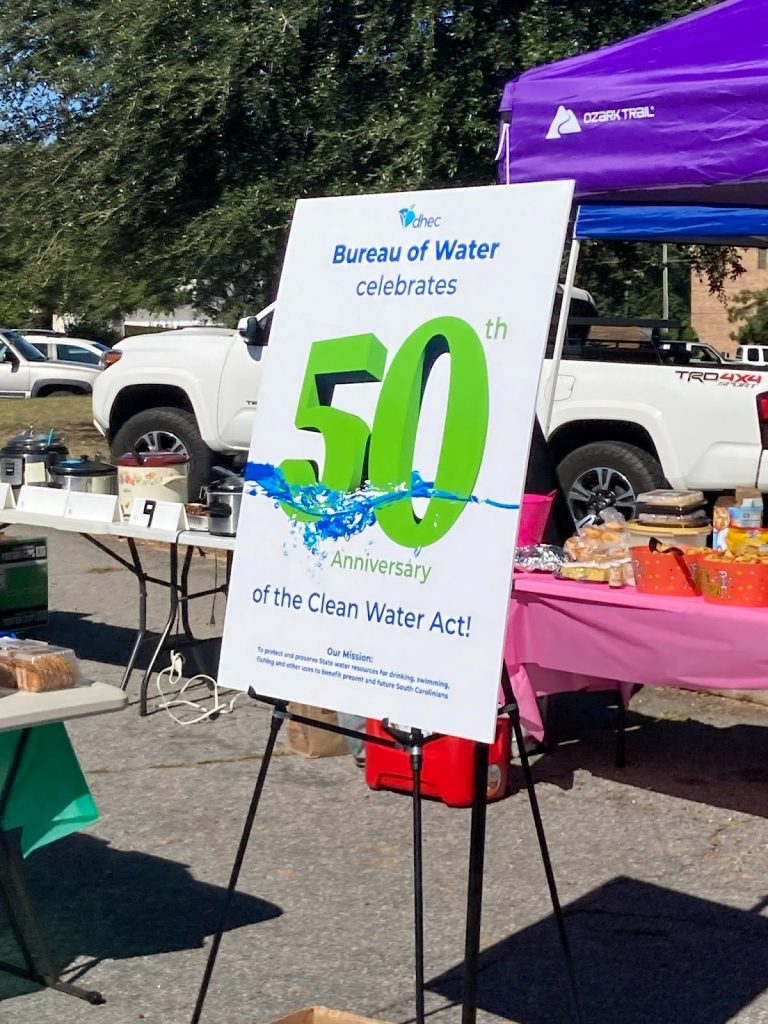 State environmental agencies are bristling with excitement this week over the 50th anniversary of the landmark Clean Water Act (CWA). Read on for a sampling of activities undertaken by Governors and ECOS member agencies. 
The Arizona Department of Environmental Quality (ADEQ) is celebrating with a social media campaign highlighting its work to protect Arizona's waters and the results achieved. To kick off Arizona's anniversary activities, Governor Doug Ducey on October 18 issued a proclamation encouraging all state agencies, businesses, and citizens to celebrate and protect clean water as a vital resource for Arizona. In addition, the Association of Clean Water Administrators (ACWA) is showcasing here ADEQ's successful remediation work for the former Hillside Mine, which has achieved a 98% improvement in nearby water quality and the return of fish. View ADEQ's Former Hillside Mine project video here.
ACWA's success stories map also highlights projects around the country and the positive impact on water. Read about the rehabilitation of the He'eia stream by introducing local vegetation in Hawaii, the return of the Easter Hellbender to streams in Indiana, the recovery and restoration of Horseshoe Pond in New Hampshire, and more!
The Michigan Department of Environment, Great Lakes, & Energy is documenting its celebrations of the CWA anniversary with a special webpage, which includes a number of recorded webinars and videos. One of the videos includes an October 17 livestream in which EGLE Director Liesl Clark visited projects across the state designed to improve water quality, including a $40M Detroit Water and Sewerage Department project. On October 18, Michigan Governor Whitmer proclaimed a Year of Clean Water.
New Mexico Governor Michelle Lujan Grisham proclaimed October as the Month of Clean Water, and the New Mexico Environment Department (NMED) Surface Water Quality Bureau is sharing information and activities each week of October to highlight the past, present, and future of the CWA. This week, NMED is highlighting the financing that will improve water quality and riparian habitats statewide. Visit the CWA50 website to learn about the River Stewardship Program, CWA 319 and 604(b) funding, and Clean Water and Drinking Water State Revolving Loan Funds. .
The Ohio Environmental Protection Agency took to Twitter to spotlight the "need for collaboration at the local, state, and national level to improve our waterways" and share the reflections of Division of Surface Water Assistant Chief David Emerman regarding important partnerships.
The South Carolina Department of Health & Environmental Control's Bureau of Water (BOW) marked the occasion with a three-fold celebration including a BOW Chili Cook-off and presentations about CWA history and implementation in the state from two agency water "legends," who have a combined 97 years of service to the state. ECOS President Myra Reece served as one of the cook-off judges and remarked that some "clean, clear water" was needed after judging the winner of the Backdraft Award for spiciest chili. The state also sponsored a photo contest of images of South Carolina waterways, with winners selected in the categories of freshwater, saltwater, sunset, and best overall.
Tennessee Governor Bill Lee proclaimed Clean Water Appreciation Week back in August, and this month, the Tennessee Department of Environment & Conservation awarded American Rescue Plan funding to Greene County, officially the first county in the state to receive this funding for water infrastructure improvements. The project grant stems from the collaborative drinking water work of cities, counties, utility districts, and authorities.
Virginia Governor Glenn Youngkin declared October 18 Clean Water Day in the commonwealth, noting the role that clean water plays in Virginia's economic prosperity through sustainable commercial fishing, tourism, agriculture, and more.