This week, New York State Department of Environmental Conservation (DEC) Commissioner Basil Seggos announced the issuance of final water quality guidance values to regulate PFOA, PFOS, and 1,4-Dioxane in state waters. The final guidance values support the state's ongoing efforts to protect public health and the environment and prevent exposure to emerging contaminants through the protection of drinking water sources. Additionally, the new guidance values for PFOS and 1,4-Dioxane are designed to protect aquatic life.
DEC released the proposed draft guidance values for public review and comment in October 2021, and conducted a review of comments submitted and the latest information about the effects of emerging contaminants in surface waters.
The final guidance values are: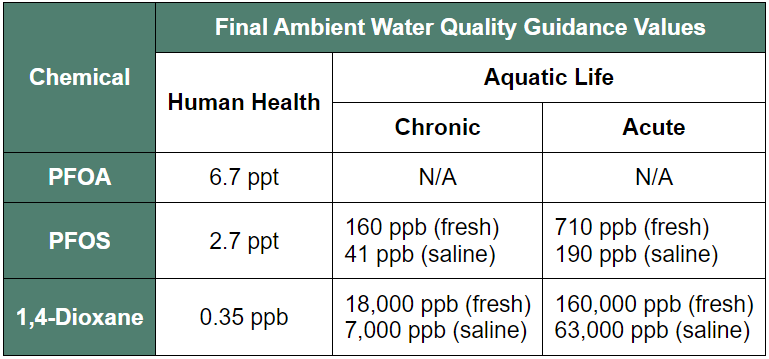 New York also has passed several new laws that will help protect public health and the environment by reducing exposure to emerging contaminants in everyday items that could find their way into waterbodies when disposed. They cover 1,4-dioxane, PFAS, and other chemicals used in household cleaning, personal care, cosmetics, food packaging, and children's products.
For more information, see here.