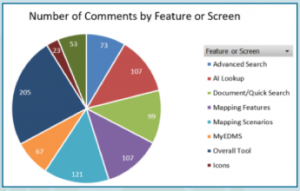 Chart showing EDMS user survey responses
The Louisiana Department of Environmental Quality (DEQ) is redesigning and modernizing its Electronic Data Management System (EDMS), which was built in 2006 and gave DEQ staff and the public electronic access to public records for the first time. The EDMS Redesign Project will provide an easier, faster, and more comprehensive experience for users via:
Easy, intuitive screens, incorporating modern, user interface features
Simplified searching for documents
Submittal search capability
New MyEDMS feature allowing users to save searches and manage alert notifications
GIS mapping tool
Better functionality for public and LDEQ users
LDEQ performed a survey of EDMS users this summer and received 491 responses on site features including quick-search functionality, access rights, enforcement action numbers, and so forth. The survey results were very positive, with an average of 74.75% agreement or interest on all rating questions regarding the proposed new features.
See more information here.