Preston Cole Reflects on How Childhood on Organic Farm Shaped Environmental Career
What sparked your interest in environmental protection?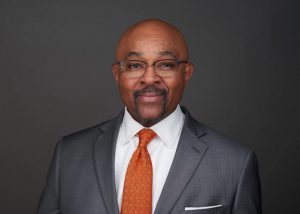 My parents. As sharecroppers from Texas and Mississippi, they taught my siblings and me to leave this planet better than we found it. They instilled in me the responsibility to pay attention to the air, soil, and water to protect the environment. We lived in an agricultural community on 15 acres of land in rural Michigan, where I was responsible for our family garden. As organic farmers, my parents taught me to nurture the soil and never depend on chemicals or pesticides. As a Future Farmers of America kid, and through my parents' efforts, I understood the value of protecting our health by managing natural resources and what we put on the land.
What past jobs prepared you best for your current agency role?
I began my career serving as Resource Forester with the Missouri Department of Conservation before moving to the great City of Milwaukee, where I became City Forester and subsequently created the City of Milwaukee's Environmental Services Division. These experiences prepared me to lead as the Deputy Commissioner of Public Works. I helped implement initiatives, including modern storm water relief, green infrastructure and complete streets, garbage diversion, recycling incentives, a food waste program, and new urbanism strategies. Advocacy and the environmental ethics instilled in me continue to carry through to my work today.
What are your top priorities?
Climate Change: As a member of Governor Tony Evers' Climate Change Task Force, we will be offering recommendations built to protect Wisconsinites from the devastating impacts of climate change, including increased storm water runoff, the warming of our cold water streams, drastic swings in lake levels, and a robust, diverse energy policy. We will continue conversations with our stakeholders including scientists, nonprofit organizations, corporations, and citizens. This is a collaboration of people inspiring action that will create community engagement strategies to move the needle forward now.
Diversity & Inclusion: Green careers are absent of the voices of color in America. It's imperative we increase diversity.
Clean Drinking Water: We continue to build on Governor Tony Evers' proclamation and commitment to provide Clean Drinking Water for all Wisconsinites. Too many communities across the state are afraid to turn on their tap. From pathogens and PFAS to contaminated and crumbling wells in rural Wisconsin, we are committed to ensuring everyone has access to clean, safe drinking water.
What's your proudest agency accomplishment?
Since joining the DNR two years ago, we are following through on Governor Evers' vision for "The Year of Clean Drinking Water." As part of the statewide initiative to ensure Wisconsinites have access to clean, safe drinking water, my agency has been instrumental in addressing the issue of PFAS across the state by creating the PFAS Coordinating Council. The Council is developing and coordinating statewide initiatives to address the growing public health and environmental concerns regarding certain PFAS substances. This includes creating a roadmap for how state agencies will address these emerging chemicals and host numerous public listening sessions.
Another area where we are working hard is getting lead out of the water. A significant way to help is removing outdated pipes bringing drinking water into homes. We have secured $63M of lead service line replacement grants to help cities, towns, and villages across the state.
Finally, the Wisconsin State Fair has been a family tradition since the 1800s. A tradition the DNR is proud to be a part of. Nearly every program at the DNR touches water quality, from urban and farm runoff to regulating public and private drinking water supplies. State Fair was the perfect place for fairgoers to meet with DNR experts to learn about fish, wildlife, and state parks and get the inside scoop on where the fish are biting. By overhauling our permanent exhibit, we attracted more visitors than in years past and were able to educate more people than ever about the need to protect our natural resources. Although things look a little different this year, including the cancellation of the famed Wisconsin State Fair, we'll be back bigger than ever when the time is right.
How would you describe your management style?
Those of us at the Wisconsin DNR live by the mantra of "service excellence" to all those we serve, especially those around the state. My management style is based on service excellence, and fosters open and honest collaboration to inspire our staff to own and solve a myriad of problems they're faced with as they relate to environmental protection. We view our work through the lens of the public ensuring we exceed their expectations. A service heart is vital to our work, which in turn influences how we problem solve and assist those we serve internally and externally.
Where's the first place you'll travel when the pandemic is over?
This pandemic has physically separated us from those we love and want to keep safe the most. I will surely run into the arms of my 98-year-old mother in Lansing, Michigan, and my 95-year-old mother-in-law here in Milwaukee.