Indiana's Pigott Brings Lifelong Passion to Environmental Protection Post
What sparked your interest in environmental protection?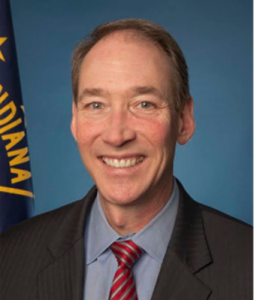 For the past 75 years, our family has been lucky to have owned property on the shores of Lake Huron in Northern Michigan far from the hustle and bustle of big cities. I grew up surrounded by towering pine trees, vast wetlands, rolling sand dunes, and a powerful lake. On summer mornings I ran to the beach to build sandcastles and swim in the crystal-clear waters. I spent afternoons fishing in local cold-water streams. In the evening, under a campfire, I marveled at the far-off twinkling lights of the Mackinac Bridge, and as darkness enveloped the land, I witnessed an explosion of stars in the night sky like nowhere else. I fell asleep to the sounds of the foghorn from the Poe Reef Lighthouse providing its reassuring guidance to Lakers navigating these Sweetwater Seas. The environment was baked into my being like a golden-brown suntan from a mild summer day. I carried that passion for the wild with me wherever I traveled. It fueled my work as the President of a local environmental organization and fed my interest in global environmental issues when I worked at a private foundation. Eventually it rooted me at Indiana's Department of Environmental Management, where I have served for 21 years.
What past jobs prepared you best for your current agency role?
My experience at the Indiana Department of Environmental Management has provided me with a deep understanding of how an environmental agency and each of our program areas works. My role as an elected Iowa City Councilmember taught me the pressures elected officials, particularly mayors, are under. I have been very sensitive to the concerns of municipalities that must juggle competing budget interests and demands from a variety of stakeholders. My work in the U.S. House of Representatives for three different Members of Congress gave me insight into their needs, the inner workings of the House and Senate, and the role of staff in making the institution work well. Together, these experiences provide me with an understanding of the federal, state, and local governmental levels and how agencies function.
What are your top priorities?
For 2021 I have four broad priorities:
    Provision of Safe and Clean Waters through the following initiatives by:
Conducting PFAS sampling of raw and finished water at all public water supplies.
Updating Indiana Metals Water Quality Criteria.
Continuing to focus on finishing implementation of combined sewer overflow  plans at 109 communities.
    Service Excellence through:
Issuing all permits at 75% of the timeframes allowed under law.
Ensuring no permit backlogs in any program.
Launching an electronic public facing portal for the public to access information and regulated entities to submit information.
Developing metrics for review of claims for the Excess Liability Trust Fund (ELTF).
Issuing clear guidance about what ELTF claims the agency will pay and at what rate.
    Diversity and Equity through:
Working with Indiana's new cabinet-level diversity coordinator to examine how IDEM can cultivate a workforce that looks like the state.
Developing an Environmental Justice (EJ) Map guiding agency EJ efforts that is accessible to the public.
Crafting an EJ policy that brings all members of our diverse communities to environmental conversations.
    Building a Resilient Hoosier State by:
Preparing Indiana for the Biden Administration's climate initiatives.
Prepare Indiana for the new electric future, creating an electric vehicle fast charging station network on high-traffic roads.
Promoting accelerated investment of green infrastructure around the state.
What's your proudest agency accomplishment?
My most enduring accomplishment will be the people I have hired over the past 20 years.  These staff will guide the agency over the next 30 years, and I am so excited to see what they accomplish. Two other accomplishments stand out for me.  First, despite repeated efforts during the past 20 years, the agency was unable to convince the Legislature to raise fees in most programs. Over the past four years we were able to convince the Legislature to pass its authority to raise fees to a board that oversees our activities and to allow the agency to request fee increases every five years. Last year, the board authorized a 25 percent increase in fees charged in our Office of Air Quality. Over the next year, we will request fee increases for Land and Water Programs. I believe these changes will allow the agency to receive regular fee increases that sustainably fund the agency. Finally, I am proud of the work that our Office of Water has done to ensure that our 109 CSO communities have approved plans for dramatically reducing discharges of raw sewage.
How would you describe your management style? 
I like to seek input from staff and ask them to provide not only an analysis of problems, but alternatives for how best to address the problems. I like to engage employees and communicate with them frequently. I have a high level of confidence in staff to provide excellent scientific and technical analysis of issues. I seek to build personal relationships with staff, so they feel free to provide me with their perspectives.
Where's the first place you'll travel when the pandemic is over?
I'd like to visit Ecuador and Iceland internationally. Here in the U.S., I want to visit Glacier National Park and Utah's Arches National Park.