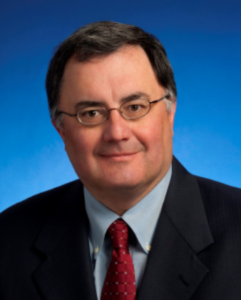 Two Minutes with Bob Martineau, Commissioner, Tennessee Department of Environment & Conservation
What's your current job?
I'm Commissioner of the Tennessee Department of Environment & Conservation. We serve as state environmental protection agency and oversee our 56 state parks and 83 natural areas.
How long have you been Commissioner of the Tennessee Department of Environment & Conservation? What's your best experience thus far?
Six-and-a-half years. Big picture, it's watching a talented and passionate team achieve great results.  One day, it was walking down a trail with Governor and Mrs. Haslam, in a light snowfall, in the Smoky Mountains, on my birthday, as we opened a new park. It was a great feeling of being part of something that will carry on for generations to come. 
How has being a member of ECOS benefitted you?
It has been a wonderful opportunity to have peers to learn from and share best practices and who understand the challenges of running a state environmental agency. Also, the ECOS staff provides a wonderful resource in keeping up with things happening at EPA, major rules, activities on the Hill, and key issues arising in other states. ECOS does work collectively on behalf of all members that each state would have to do on their own, or not be able to do. Being a member of ECOS also helps with access to senior EPA leadership on a regular basis, both in person and on phone. ECOS staff also does a great job of knowing the players at U.S. EPA, U.S. DOE, and the Hill to help us navigate those minefields.
What is the best management advice you've received?
Manage with your head, lead with your heart. Be a servant leader – you can produce great results by helping others succeed. Mission, vision, plan, and results are important, but sustained success of an organization comes from having lots of great leaders, not just willing followers. (Oh, and by the way, you will  be successful beyond your dreams if you help those around you succeed.)
Tell us about your morning ritual.
Coffee and newspaper, workout some mornings, drive to office, more coffee, meet with my assistant go over schedule, check emails, more coffee, and off to tackle the day.
What was your childhood dream job?
Professional golfer.
What's your favorite moment of your career so far?
Being sworn in as Commissioner.
What leader do you most admire?
I look at key traits of leaders and find the best of each in different leaders. Key traits are humility (lack of ego), integrity, trustworthiness, passion, empathy, and courage.
There's not one in particular, but my boss Governor Haslam is one of the best leaders I have met as he embodies those key traits.
What was your first real job?
My summer job in high school was as a busboy at a Holiday Inn. My first full-time job was as a law clerk to a federal judge
What can you not live without?
Family and friends.
If Hollywood made a movie of your life, who would you like to see play the lead role as you?
A young Robert Redford.